Murudeshwar is a small town of North Karnataka, located on the west coast of India. It is famous for Murudeshwar temple which and a very tall Shiva statue. In fact this statue is second larget Shiva statue in the world. The temple itself is very old and said to be from vedic times. Murudeshwar(a) is another name of Lord Shiva.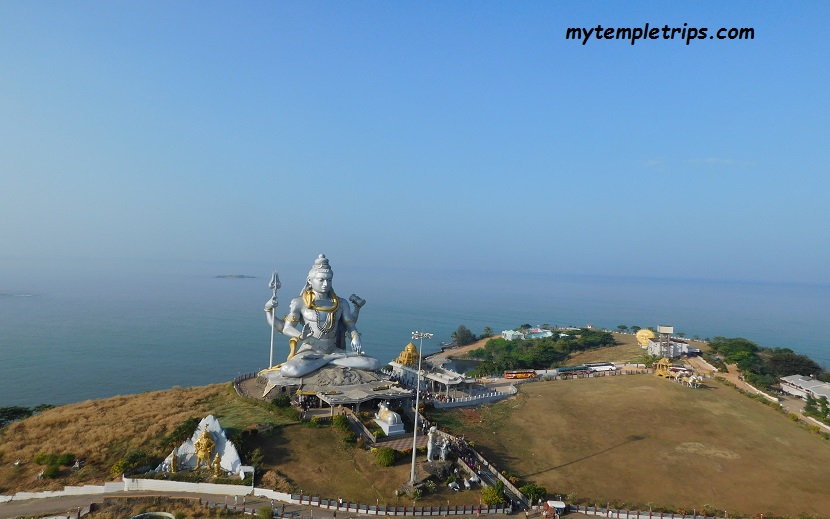 ---
Murudeshwar temple karnataka
Murudeshwar temple karnataka is one of the five famous Atma-Linga temple in the country. Others being Gokarna (Mahabaleshwar), Dhareshwar, Surathkal (Sadashiva) and Guneshwara (Gunavanthe)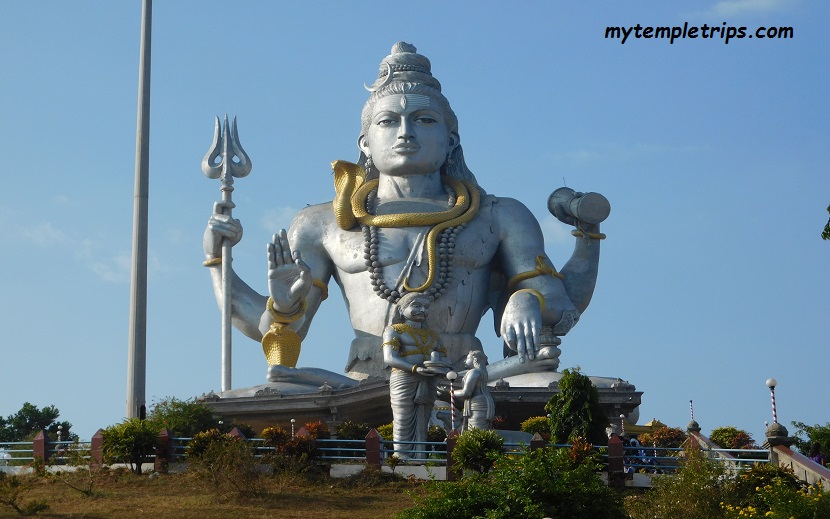 ---
Legend Behind Murudeshwar temple ( murudeshwar temple history )
It is said that, Ravana once did a severe penance at Mount Kailash to please Lord Shiva. Shiva pleased with his worship agreed to bestow boons on him and asked Ravana what he wants.
In return Ravana asked for Atma-Lingam. It is said that worshiping Atma-Lingam brings immortality. Shiva was so happy with Ravana that he granted him Atma-Lingam , but with a condition that he will not keep Atma-Linga on the ground till it reaches its final destination.
Ravan was happy and agreed to this condition. Taking the Atma-Linga along with him, he started back when on the way he found that it is getting dark and he needs to be perform his evening prayers.
He saw a small boy playing and requested him to hold the Atma-Linga while is finishes his evening prayers.
The boy agreed but with a condition that if he finds it to be heavy and cannot hold further, he will call for him three times and if Ravana dosen't come by that time, he will keep the Linga on the ground.
Ravana agreed to this condition and handed over the linga to the little boy.
While he was busy with the prayers, the little boy started calling out Ravana, but Ravana did not want to leave the prayers in between.
The boy called for his name three time and then kept the linga on the ground.
Ravan was very angry. He tried to lift the linga, but it did not come out. Ravana was so angry that he tried hitting the little boy and then the little boy came to his actual form and it was Lord Ganesha.
Since Ravana has got Atma-Linga, this caused lot of worry to Devas and they have requested Lord Ganesha to help.
Ravana understood that he has been tricked. He got angry and started throwing lingam accessories around.
The place where the cloth covering the Atma-Lingam fell is know as Murudeshwara and the temple is called as Murudeshwara temple.
---
What else to see near Murudeshwar temple
Main temple which has been built on Kanduka Hill and is surrounded on three sides by Arabian Sea. There is a 20 storied go-puram at the entrance. You can take a lift to go till top floor and enjoy the view from the top.
The statue park with one of the largest Shiva statute is also a big attraction.
---
How to reach Murudeshwar temple
Murudeshwar has a railway station which has trains from Mangalore and Mumbai.
If you are based out of Bangalore you can reach Murudeshwar by
1) Shimoga ( Bangalore – Tumkuru – Shimogha) NH4 till Tumkuru and NH 206 towards Shimogha and then to Murudeshwar
2) or via Chittradurga ( Bangalore – Tumkuru – Chitradurga – Murudeshwar) NH4 till Chittradurga and NH13 after that.
The road conditions are good throughout. However NH206 and NH13 are 2 lane at this moment and hence you get a bit less speed.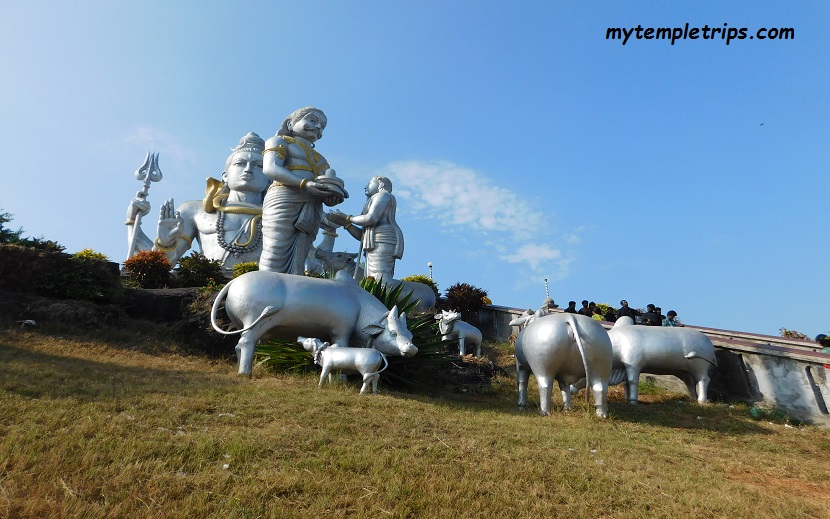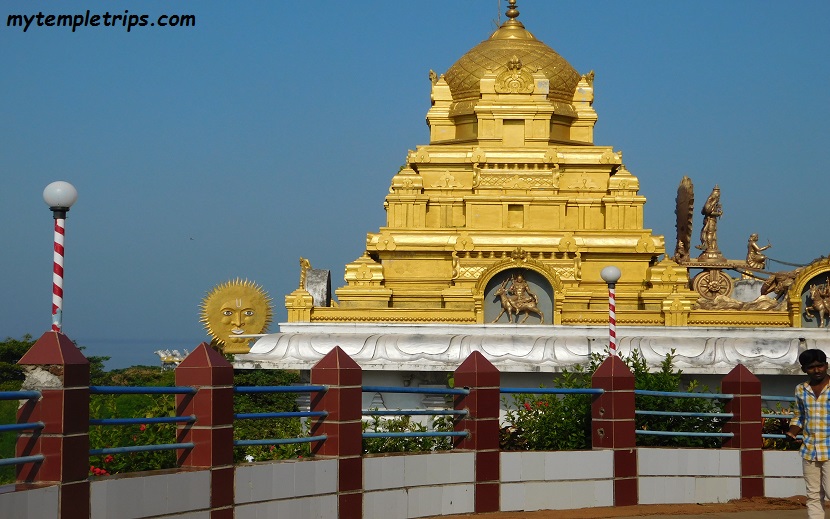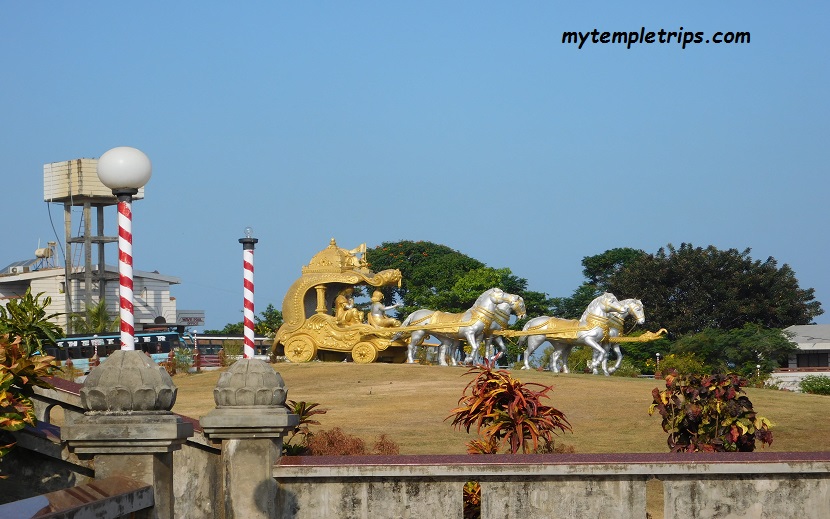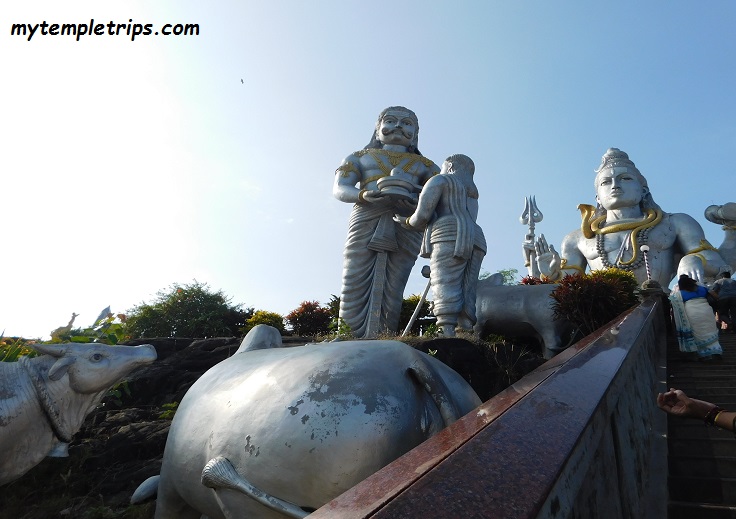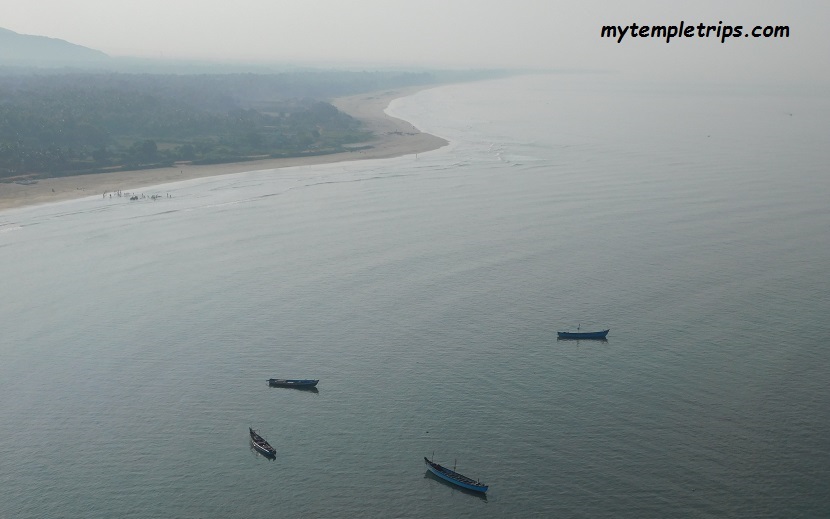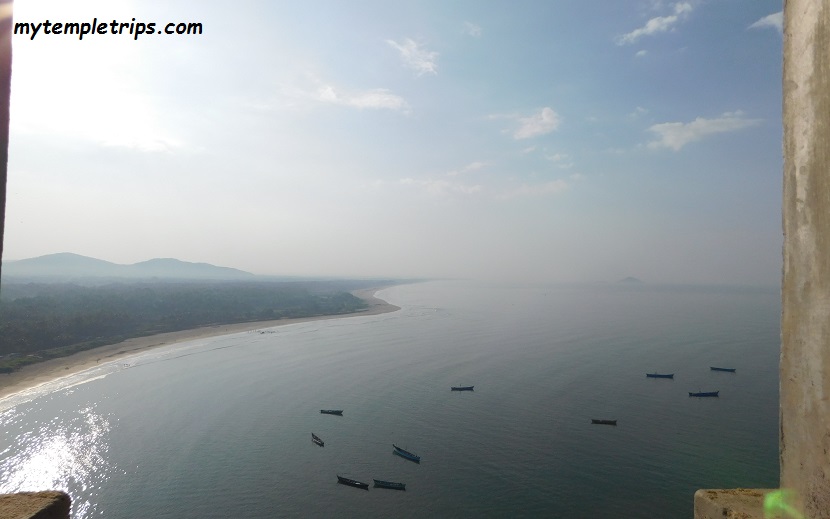 Murudeshwar temple timings
| | |
| --- | --- |
| Morning Darshan timings | 6.00 AM to 1.00 PM |
| Evening Darshan timings | 3.00 PM to 8.30 PM |
| Morning Pooja time | 06.30 AM |
| Maha Pooja time | 12.15 PM |
| Night Pooja time | 7.15 PM |
Pooja / Seva at Murudeshwar Temple
You can attend below daily Seva at Murudeshwar temple. Apart from Daily Seva, there are also yearl Sevas.
Daily Seva
Rudrabhishekam – This is specific pooja for Lord Shiva also known as Rudra. Main pooja for Lord shiva called as Rudrabhishekam
Panchamritha Abhishek – The shiv Linga is bathed with pancha amrit ie. Milk, Ghee, Honey, Curd and Sugar
Panchakajjaya – Prasadam offering to Lord Shiva
Durga Sahasranama – Chanting of Durga Sahasranama
Ganapathi Sahasranama – Chanting of Ganapathi Sahasranama
Bilvarchane – Offerring Bilva leaves to the god
Chandan Abhishek – The idol of Lord Shiva is bathed with the paste of Chandan ( sandal wood paste )
Bhasmarchane – Bhasam acrahana – applying bhasam to lord shiva
Navagraha Pooja
Kumkumarchane
Ekadasa Rudra
Sudarshana Japa
Thilarchane
Lalitha Sahasranama Pooja
Aanastharpana
Subramanya Sahasranama
Shivasahasranama
Anjaneya Sahasranama.
Yearly Seva
Sarva Deva Pooja – On a particular day of the year, worship all the shrines in Murudeshwar
Nanda Deepa Seva – On behalf of devotee, the priest will light the Nada Deepa Stambh
Annastarpana Seva – Annadanam for one full day
---