We have been looking for this day. To write about the Sri Tirupati Balaji and Sri Kalahasti, two of the most important pilgrimage centers across India. But we wanted to visit the place first, before we write it. And believe us, the trip was amazing and very fulfilling.
Note, no photography is allowed inside any of the temples in Sri Kalahasti or Tirupati/Tirumala. Cellphones are also now allowed inside the temple premnises.
The temple of Sri Balaji, also known as Sri Tirumala Venkateswara  or Sri Thiruvengadam is located on the hills of Tirumala, around 20 Kms from Tirupati. Tirupati town itself has many important temples apart from Sri Balaji temple. Around 20 Kms from Tiruati is another important pilgrimage center and its called as Sri Kalahasti.
The visit is complete unless you visit both the places. We suggest that your visit should include below temples
1) Sri KalaHasti temple
2) Sri Padmavati temple
3) Sri Varahaswami Temple
4) Sri Balaji temple (Tirumala)
5) Sri Anjaneya temple
Above five temples are a must visit and if you find time there are more which can be covered.
1) Sri Kalyana Venkateswaraswami Temple
2) Sri Govindarajaswami Temple
3) Japali Teertham
4) Sri Venugopala Swamy Temple
5) Kapila Theertham
6) TTD Gardens
7) Talakona Waterfall
8) Rock Garden
9) Tumbhuru Teertham
10)Vaikuntha Teertham
Our trip started from Bangalore. It takes approximately 7 hours to reach Tirupati from Bangalore. You have to go via Chitoor. If you are able to start early from Bangalore then you can cover 2 very popular temples on the way :). Yes this area is of (around) Chitoor is of great religious importance. These 2 temples I have covered in my another blog, the links are given here:
Sri Anjaneya Swamy Temple , Ardhigiri (Aragonda)
Sri Varasidhi Vinayaka Swamy Temple
We knew that we will start late and hence we planned to go to Sri Kalahasti first. We reached Tirupati by 4.00 PM (yes you have to cross Tirupati to go to Sri Kalahasti) and by 4.30 we were in Sri Kalahasti. We did not plan for any major activity on that day expect visiting the temple. I will talk about the importance of this temple later, but just to tell you, this is one of the most important temple for "Rahu Ketu  Pooja". There are 4 more temples in Inida where you can d"Rahu-Ketu or Sarp Dosham Pooja". Since we had planned for this "pooja" we quickly checked into the hotel which was very near to the temple and freshened up ourselves. Yes, if you wish to do this ritual, you have to take bath and wear fresh clothes. Once we were ready we went to the temple. We deposited our mobile phones and cameras at the counter outside the temple entrance. Huge rush due to some auspicious day but we were enjoying it.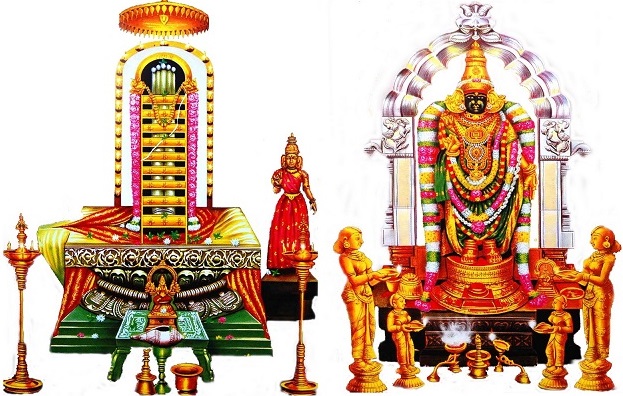 There are various kind of tickets for this Seva (yes in temples, these rituals are also called as Seva's). When we visited there was ticket of Rs 300, Rs 1500 for Rahu-Ketu Pooja. We opted for Rs1500/-. You get all the "Pooja-Samagri" along with the ticket. If you have Rs1500/- ticket your group is smaller. We were  5 families together to perform the ritual. In Rs300/- ticket the group is bigger. After the Pooja is over, you can give some token money to the priest (dakshina). Once you are done with this Pooja, you can visit rest of the temple. Since this is Rahu-Ketu pooja, you will get Rahu-Ketu silver idol in the pooja samagri which you will use during pooja. Once the pooja is complete, you will need to put it in a hundi present in the front of main Shiv Linga. (Note: Rahu-Ketu pooja is not mandatory though). The temple is very old and grand. We took almost 2 hours for this visit and then came out. Went around the local market and then back to hotel, had food and slept.
We woke up early in the morning, got ready and headed towards Tirupati. Our plan was to visit Sri Padmavati teample next. When you are coming back to Tirupati, you will start seeing the marking for Tirumala. There is a over bridge were you need to take a service road and then right for Tirumala. Instead of taking right if you take left you will be going towards Sri Padmavati temple. Ask any one in doubt. There is ample parking there (paid parking). Sri Padmavati is the divine consort of Lord Venkateswara and hence visit to Sri Balaji is incomplete without visit to Sri Padmavati temple. This temple is generally visited before visiting Lord Venkateswara. Please remember that the temple closed between 10.30 to 12.00  and hence make sure that you reach early in morning or during noon time. And yes please offer lotus to Sri Padmavati. You will find lot of people selling lotus outside the temple.
We were free by 11.00 and headed straight towards Tirumala. It is also called as "Devsthan" and true to its name, it's really is. We have taken taken seegradhashan ticket online at TTD website "https://www.ttdsevaonline.com/". Â You can also buy ticket directly at Tirumala or opt for free darshan. Since we had kids with us, we booked it online so that we spend less time in queue. The TTD online website is very user friendly. TTD releases only a fixed no. of ticket for online booking and hence you go there and check the availability on a particular day and particular slot of the the day. We took slot of 2.00 PM. We were advised that we should keep time in hand as many a times the rush at Tirumala is huge because of some event or auspicious day or weekends. There is a security check before you start climbing Tirumala hills and hence this also may take time depending on the rush. If you do not have a luggage in your car then you can go to fast lane. Else you have to get your luggage scanned. Also important to remember, if you are taken a seegradarshan ticket, please make sure that you wear traditional indian dress. No jeans, trousers or tea-shirt. Else you will not be allowed in the queue. Otherwise as well, it is always good to wear traditional dress while visiting temple.
There is ample parking at Tirumala and parking is free. We parked our car and headed towards the queue. The spot given in the ticket for the queue was a bit confusing, but we were able to find it. Just keep asking people around. We reached at the queue at around 1.45 PM, only to find that there were already few hundred people before us :). We forgot to leave our camera and mobile in car and hence we were worried. Fortunately on the way, there is a counter were you can deposit your phone , camera and shoes and you get a token and you can collect your items from a central location once you come out of the temple.
The queue tends to be long even when you have a seegradarshan ticket. We tool almost 3 hours due to huge rush on that particular day. It generally takes 1 to 2 hours on a normal day. The arrangements are quite good with arrangement to sit. In the main temple you hardly get 5 to 19 seconds to see the lord.
Once we came out of the main temple, we went on to visit Sri Varahaswami Temple which is just behind the mail premised and is on walkable distance. There is a pond there which is called as "Pushkarni" pond. We sat down next to the pond for some time and then started back. We first collected the prasad from the dedicated counter (there are some free ladoos along with the ticket and if you need more, you need to buy token for the same) and then came out of the main premises. We then went to the central collection system and collected out camera and mobile phones and returned back. On the way back to hotel you can stop at Sri Anjaneya temple.
There are ample places for stay in Tirupati and Sri Kalahasti. Even if you stay at Tirupati you can travel to Sri Kalahasti and come back after visiting the temple. There are good staying options in Sri Kalahasti as well. There is a guest houses and dormetry halls which are available at Tirumala and is run by temple administration (TTD). You can do an advance booking at TTD website.
How to reach Tirupati Balaji and Sri Kalahasti

Tirupati is well connected to almost all major cities of India. The railway stations at Tirupati are Renigunta Junction (RU), Tirupati Main (TPTY), Anantarajupet (ANE).

If you are travelling by air, then Tirupati Airport has regular flights from many major airports in India. If you are travelling from outside the county then you can first reach Bangalore, Hyderabad or Chennai international airport and then take a connecting flight to Tirupati or hire a Cab.

If travelling by own vehicle, the best way will be to reach Chitoor and then to Tirupati. Both Tirumala and Sri Kalahasti are approximately 20 Kms from Tirupati.
Legend of Sri Kalahasti:Â 
Sri Kalahasti is named after the 3 devotees of Lord Shiva. They were the Spider (Sri), the Serpent (Kala) and the Elephant (Hasti).
Appeased with their unflinching devotion, Lord Shiva gave them a boon that their names be merged with the Vayulinga and called as Sri Kalahasteeswara.
According to Hindu mythology, the elephant (Hasti) used to clean the Shiva deity by watering the idol with the help of river water carried in his trunk. The spider (Sri) tried to protect the deity from external damage by weaving his web around the Shiva lingam. The snake (Kala) used to place its precious gem on the linga to adorn the lord. In this way, they all worshipped the Vayu linga separately without knowing what the other was doing.
One day, the spider had built a very big and thick web around the deity to protect it from dust and weather while the snake places its gem. The elephant not knowing this and assuming that this form of puja by Sri and Kala is a desecration by the seeming miscreants, pours water on it and cleans it up. This causes a war between the three. The snake punishes the elephant by entering its trunk and in the process kills itself while the elephant runs amok and hits its trunk and head against the shiva linga. During this struggle, the spider is squashed against the linga by the elephant's trunk and the elephant dies due to the snake's poison. Lord Shiva then appeared and gave moksha to all three of them for their selfless devotion. The spider takes rebirth as a great king while the elephant and the snake reaches heaven for satisfying all its karma. This is why this temple is called as Sri-Kala-Hasti.
Legen of Sri Tirupati Balaji temple
Before the starting of kaliyuga, the Rishis began to perform a yagya on the banks of ganga for the goodness of people in the kaliyuga. Kashyap rishi was the head of these rishis. Sage Narada and sage Bhrigu visited them at the Yagya time and sage Narada asked them to tell him that why they were performing the Yagya and who would be pleased by it.
All rishis were suprised. After much discussion they all agreed that Sage Bhrigu will find out that who is the most supreme of the trinity. Hence sage Bhirgu went to satyalok to meet Lord Brahma. At Satyaloka, he found Lord Brahma reciting the four Vedas in praise of Lord Narayana, with each of his four heads, and attended upon by Saraswati. Lord Brahma did not take notice of Bhrigu. Hence rishi Bhrigu left Brahmlok and went to Kailash, the abode of Lord Shiva. At Kailash, he found lord Shiva meditating. Sage Bhrigu tried to call Lord Shiva, but he did not get any response and hence he left for Vaikuntham, the adobe of Lord Vishnu.
The angry rishi Bhrigu went to Vaikunthdham. In Vaikunthdham, Lord Vishnu was sleep on the bed of the Adisesha and Goddess Lakshmi was respectfully nursing his feet. Finding that Lord Vishnu also did not notice him, the sage was infuriated and kicked the Lord on his chest.
Lord Vishnu, in an attempt to pacify the sage, got hold of the legs of the sage and started to press them gently in a way that was comforting to the sage. Sage Bhrigu got very calm and felt very guilty and he decided that God Vishnu was the most supreme of the trinity and told the Rishis the same.
Sri Mahalakshmi was angered by the action of her Lord in apologizing to Bhrigu who committed an offense. Out of anger, She left Vaikuntha and started living on earth. Lord Vishnu tried to find her, but could not and hence he decided to take birth on earth as "Srinivas". Sri Lakshmi also took birth as goddess "Padmavati" and events so happened that Lord Srinivas and goddess Padmavati got married. All the gods attended this marriage and Rishi Bhrigu also came and asked for forgiveness from goddess Padmavati (Sri Lakshmi).
But another event happened during the marriage of Lord Vishnu and Sri Padmavati. Lord Vishnu took lot of money from Kuber to give present to Sri Padmavati. He promised that he will return all the money (along with interest) he borrowed from Kuber, back to him by end of Kaliyuga. It is said that when you offer money at the the Tirupati Balaji temple, you are helping Lord Srinivas re-pay this amount.
The temple of Sri Balaji is situated at the hill called as Tirumala. This hill is also called as "Seshachalam". This hill looks like a serpent and has seven peaks with each named as "Seshadri", "Neeladri", "Garudadri", "Anjanadri", "Vrishabdri", "Narayandri" and "Venkatdri". It is said that these peaks represent "Adi Sesha".
11,855 total views, 3 views today