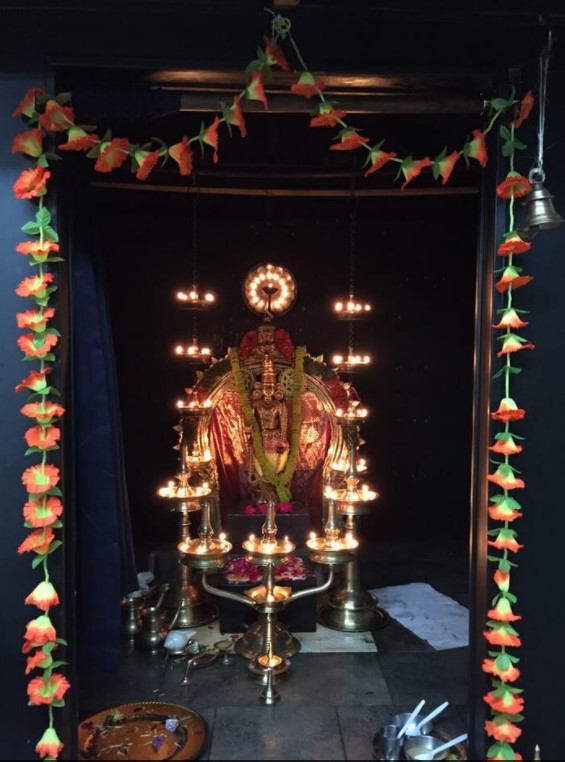 Shri Guruvayurappan Hindu Temple Dallas , TX, USA
Shri Guruvayurappan Temple Dallas, has been a prominent place of worship for Hindu community in the region.
KHSNT began with the goal of instilling Hindu spiritual and cultural values in younger generations and keeping the Kerala Hindu community in the city united. It then went on to set the groundwork for uniting all Kerala Hindus across North America in 2001 at the first KHNA convention.
In the year 2008, KHSNT was blessed to hold the first Srimad Bhagavata Sapthaham (moolam) in the North American continentn (a year after moving to its own permanent hall in 2007 ).
Soon after the 2nd Sapthatham in 2010 conducted by acharyas from Guruvayur (India) Sri Guruvayurappan blessed the whole Dallas metroplex through this community by buying a 3.4 Acre land in the heart of DFW metroplex, for building the temple and spiritual/cultural hall.
On July 16th, 2011, the Shri Guruvayurappan Hindu Temple Dallas opened its doors, offering daily Deeparadhana (7:00 p.m. to 8:00 p.m.) as well as a variety of other daily, weekly, and spiritual poojas and programmes.
Members of the Kerala Hindu Society of North Texas (KHSNT) have been meeting for a monthly prayer since 1985.
Dallas Sri Guruvayurappan Temple Timings
| | |
| --- | --- |
| Monday | 6:30 AM to 10:30 AM & 6:00 PM to 8:30 PM |
| Tuesday | 6:30 AM to 10:30 AM & 6:00 PM to 8:30 PM |
| Wednesday | 6:30 AM to 10:30 AM & 6:00 PM to 8:30 PM |
| Thursday | 6:30 AM to 10:30 AM & 6:00 PM to 8:30 PM |
| Friday | 6:30 AM to 10:30 AM & 6:00 PM to 8:30 PM |
| Saturday | 6:30 AM to 12:30 AM & 6:00 PM to 8:30 PM |
| Sunday | 6:30 AM to 12:30 AM & 6:00 PM to 8:30 PM |
Dallas Sri Guruvayurappan Temple Address
1701 Spring Valley Road,
Carrollton, TX 75006, USA

Shri Guruvayurappan Hindu Temple Dallas Phone: +1 972-646-1463
Email: dallas@guruvayurappan.us
Dallas Sri Guruvayurappan Temple Daily Schedule
6:30 AM
Temple Opens (Nirmalyam)
Enna adal,
Vakacharthu & Ganapathy,
Ayyappa,
Bhagavathy and
Shiva Daily Rituals
08:00 AM
Prabhatha pooja
10:00 AM
Ucha Pooja
10:30 AM
Closing
12:00 PM
Ucha Pooja
12:30 PM
Closing
6:00 PM
Opening
7:00 PM
Deeparadhana
8.00 PM
Athazhapooja (sahasranamam chant )
8:30 PM
Temple Close
---
For all the hindu temples in Dallas – click here
Related
Shri Guruvayurappan Temple Dallas, has been a prominent place of worship for Hindu community in the region. Contents hide 1 Dallas Sri Guruvayurappan Temple Timings 2 Dallas Sri Guruvayurappan Temple Address 3 Dallas Sri Guruvayurappan Temple Daily Schedule KHSNT began with the goal of instilling Hindu spiritual and cultural values in younger generations and keeping…