Shivagange also called as Shivaganga, is another nice weekend gateway and a must visit temple near Bangalore and is also a Hindu pilgrimage center.
Originally published on – Sep 1, 2014
The importance of this place is such that this place is also called as Dakshin Kashi.
It is a nice picnic spot and also a trekking area. This place is located near Dobbespet, which is 8Kms before Tumkur. Not very far of from Bangalore, can we covered in half a day.
Shivaganga (Shivagange) is a hill. It boasts a monolithic granite hill which is around 1380 meters above sea level. The hill top offers a picturesque view of the villages around.
If you plan to trek to the top of the hill, it is almost a 2 hours walk. There are various temples in to visit here and then there is a fresh water spring, also called as Patal Ganga.
---
Legend behind Shivaganga (Shivagange)
There a legend behind this place. Legend says that Rishi Agastya has visited this place and performed penance here and pleased lord Shiva. The main temple is called as Gavi-Gangadhara.
---
Shivaganga (Shivagange) climb
Gavi in Kannada means cave. And it is a Shiva temple and hence its called as Gavigangadhareshwara. This is the first temple which is at the foot hill. Once you park your vehicle, you have to climb steps to reach this temple.
Its almost a 15 minutes climb. Make sure that you have all your belongings covered. There are lots of monkeys around and they tend to snatch everything.
Once you have covered the first temple, then you start climbing up which is a long climb. Almost 2 hours if you want to climb till the top. Half way there is another temple which is again a cave temple. Its has a very narrow entrance.
---
Few things to remember. We tend to remove our shoes before starting to climb the steps of first temple. But if you want to trek, please keep them on. You can remove your shoes before you enter the temple. Do not carry any eatables. Lots of monkeys around, So travel light.
On the way to the hill top, there are few shops selling water, soft drinks etc. If possible start early. It is always very pleasant morning there. If you are with kids, make sure that you have some extra clothes, have their shoes on ad have few small water bottles in a bag.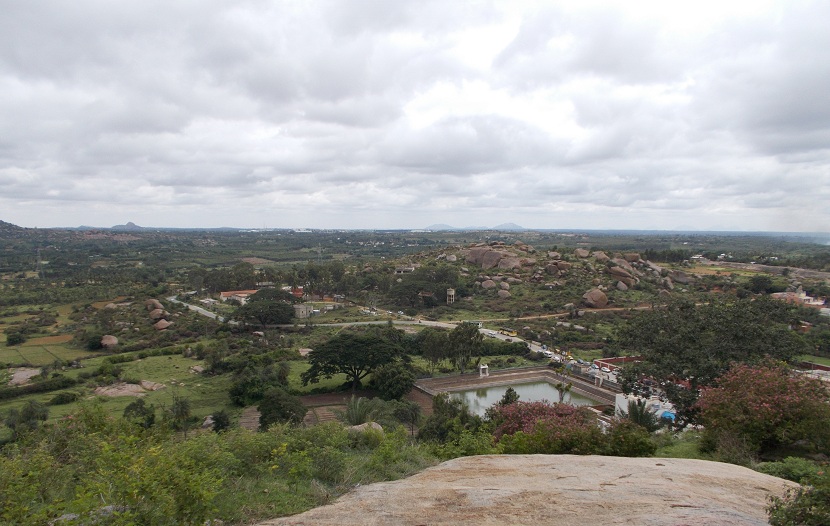 How to reach Shivaganga / Shivagange
The temple is situated near Tumkur and not very far away from Bangalore. Its approximately 60 Kms from Bangalore.
If you are residing in Bangalore, head towards Tumkur road. You will cross Neelamangla and then

Dobbespet.





Do not cross Dobbespet, go below the flyover and take left. Keep on going straight.





After around 6 to 7 kms, you will find a marking for Shivaganga. If in doubt ask some one.



Bangalore (–> Yeshwantpur) – > Tumkur Road -> Neelamangla -> Dobbespet -> Shivaganga

There are direct buses from Bangalore (Majestic Bus Depot) to Tumkur.
| | |
| --- | --- |
| Nearest Railway Station : | Tumkur, Bangalore |
| Nearest Airport: | Bangalore |
| Nearby Cities: | Bangalore, Tumkur |
You may also like: Kudurmale Ganesha Temple
Enjoy these photos: