Kanchipuram also known as the temple city of Tamilnadu is known for thousand of temples which exists in this city. Kanchipuram temples are famous across the world and this temple town is one of the most visited temple towns.
Kanchipuram is one of the most ancient city of Tamil Nadu and India and its history dates back to 2nd Century BCE.
so friends, let us look at the some famous Kanchipuram temples of the he temple town Kanchipuram!
Kanchipuram – One of the Sapta Puri Cities
Kanchipuram is also one of the Sapta Puri cities of India. Cities which are considered to be so holy that visiting them provides path to moksha. These are Ayodhya, Mathura, Haridwar, Varanasi, Kanchipuram, Ujjain and Dwarka.
Such is the importance of Kanchipuram. As par Garuda Puran this is a place to attain moksha!
---
What does the name Kanchipuram signifies
Kanchipuram is a tamil word, which means a place where Lord Vishnu is worshipped. Lord Varadharaja Perumal Temple is where Lord Vishnu is worshipped as Lord Varadharaja and is one of the most famous temples of Kanchipuram.
In sanskrit Kanci means girdle and it is said that the city is like a girdle to the earth.
---
Kanchipuram temples – Famous temple of Kanchipuram
Kanchipuram is a famous temple town, but let us look at some of the most famous temples of Kanchipuram
Shri Varadharaja Perumal Temple
One of the most famous Kanchipuram temples, Shri Varadharaja Perumal Temple, also called as Hastagiri or Attiyuran is dedicated to Lord Vishnu.
It is located in a suburb of Kanchipuram known as the Vishnu Kanchi which has many famous Vishnu temples.
It is one of the Divya Desams, the 108 temples of Vishnu. The temple along with Ekambareswarar Temple and Kamakshi Amman Temple in Kanchipuram is popularly known as Mumurtivasam Kanchipuram
Sri Varadaraja Perumal temple is known as: 'Perumal Koil'.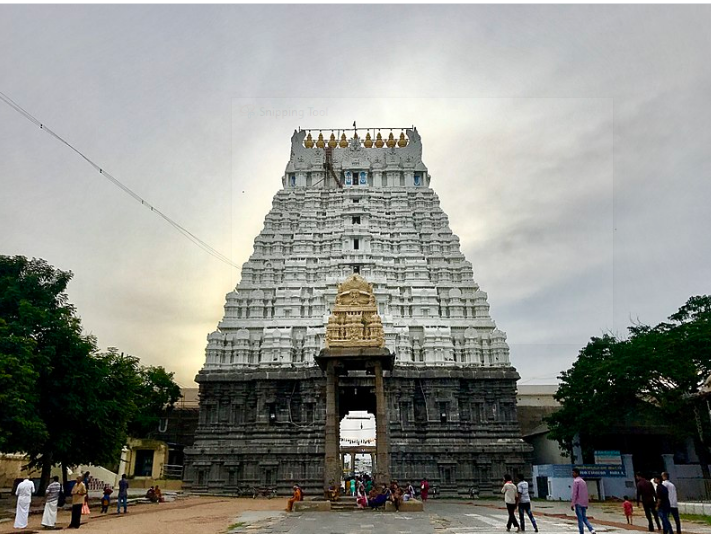 This is one of the most sacred places for Vaishnavites. The fourth of the Divya Desams that completes this series is Melukote–which is known as Thirunarayanapuram.
Vaishnavites believe that visiting all four places without a break will guarantee one a place in paramapadam.
Shri Ekambareswarar Temple
Ekambareswarar Temple is temple dedicated to shiva and is the largest temple in city.
Located in the main town (city center) this temple is very important to the shivaities and also is one of the temple associated with the five element the panch bhota stalams and signifies earth (Prithvi Lingam)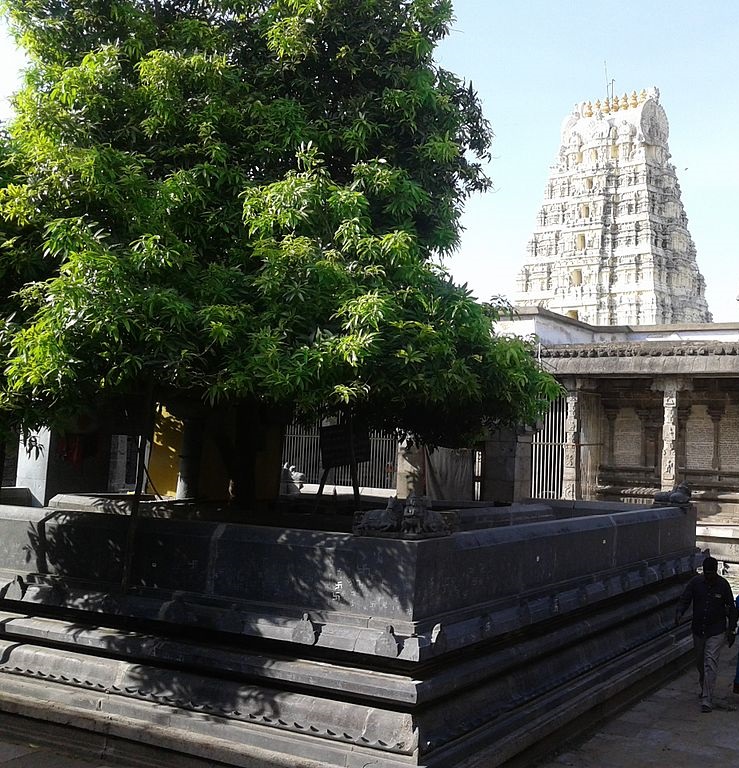 Its gopuram, is 59 metres (194 ft) tall, making it one the tallest temple towers in India. The temple is one of five called Pancha Bhoota Stalams.
Shri Kailasanathar Temple
A very very famous Kanchipuram temples, Kailasanathar Temple is dedicated to Lord Shiva and was built by the Pallavas.
It is one of the oldest Hindu temple in existence here and is declared an archaeological monument by the Archaeological Survey of India.
Adi Sankara is closely associated with this temple and is believed to have established the Kanchi math after this temple
Interestingly, it was built in the 8th century by Pallava king Narasimhavarman II, who also built the Shore Temple at Mahabalipuram.
The main shrine has a 16 sided Shivalinga in black granite stone deified in the sanctum sanctorum. Within the walls of the main shrine there is main pedestal with very elegantly carved images of gods. Nandi as in all Shiva temples is giving guard to the deity.
On each face of the outer walls of the main shrine there are many carvings of deities.
It's said that a secret tunnel, built by the kings, was used as an escape route & is still visible..
This is an ASI protected monument and a must visit temple if you are in Kanchi.
Sri Kamakshi Amman Temple
Another very very important center for worship in Kanchipuram, the temple is dedicated to Ma Parvathi and is worshiped here as Kamakshi Amman. There is three major Kamakshi temples, one in Madurai , the Meenakshi temple, the other one as Akhilandeshwari temple in Thieuvanakaval and this one. The temple was built during Pallavas period.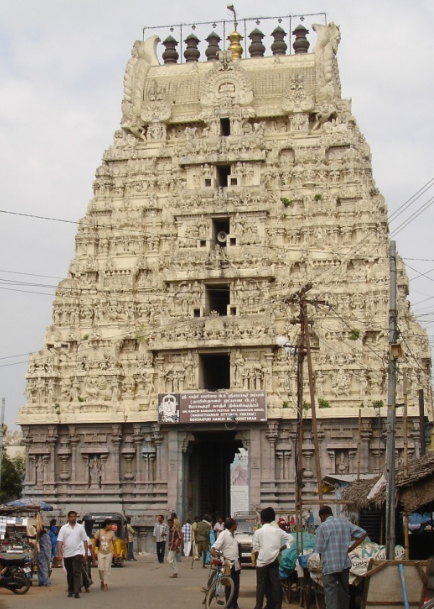 Ma Kamaskhi Amman is seated in padmasana position in this temple which signifies peace and prosperity. This is the only Shakti temple is Kanchipuram. Spread over an area of around 5 acres, this temple is magnificent and must visit if you are in the city.
Shri Muktheeswarar Temple
Another very old Shiva temple in Kanchipuram built during the times of Pallavas.
It is a small temple but with nice carvings dating back to Pallava period.
Very near to bus stand is often missed, but should be on your list if you are visiting the city.
The main deity here is Sri Muktheeswarar and Goddess Sri Dharmasamvardhani Ambaal.
It is one of the 275 Paadal Petra Sthalams.
Sri Kumarakottam Temple
Another very famous temple in the city, dedicated to Muruga. This temple is located on main Raja Street and is between the Ekambareswarar temple and Kamakshi Amman temple.
So the temple located to Lord Murga, who is son of Lord Shiva and Ma Parvati is located between the two temples, the Ekambareswarar temple dedicated to Lord Shiva and Kamakshi Amman temple dedicated to Ma Parvathi. .
This temple is one of the major temples of city and an important religious destination.
Shri Chitragupta Swamy Temple
There are not many temples dedicated to Shri Chitragupta. The patron deity of all Kayasthas in India. The Sri Chitragupta Swamy Temple in Kanchipuram is one of them.
A very small but beautiful temple, maintained by ASI, this temple should be on your list if you are visiting the city. One of the must visit temples for all Kayasthas.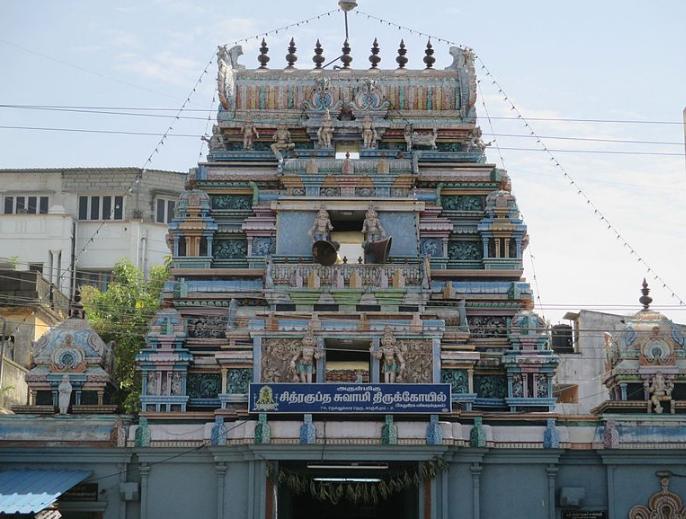 ---
This is one of the few temples in Kanchipuram which was buitl during Cholas period.
Shri Ashtabujakaram temple
Another important temple dedicated to Lord Vishnu. The temple is believed to be built during the period of Pallavas. Located in the area of Vishnu Kanchi, the same place where Shri Varadaraja Perumal Temple is located. It is a small temple but a prominent Vishnu temple of the area.
Other important Information
The city is also popular as an important center for Buddhism and Jainism.
The original set of the Jina Kanchi institution Mutt was in Kanchipuram. There is twin jain temple in kanchipuram which is maintained by Tamil Nadu archaeological department. Trilokyanatha Temple is one such temple built during Pallavas time.
Buddhists institutions from Kanchipuram were instrumental in spreading Theravada Buddhism to the Mon people of Myanmar and Thailand
---
There is a lot to write about Kanchipuram. This place is one of the most important places for Hindus and is dotted with thousands of temples. The temples we have listed out are one of the most important ones if you are visiting the town.
Never miss an opportunity to visit Kanchipuram if you are visiting Tamilnadu. October to February is an ideal time to visit.
Have a blessed Darshan!
mytempletrips!