Hinduism places a great importance to the five prime elements of nature ie. earth, water, fire, air and space and it said that our bodies are made of these 5 elements. These elements are present every where and so we have 5 shiva temples each dedicated to one of these five elements. These temples are called as "Pancha Bhoota Stalam". Shri Ekambareswarar Temple Kanchipuram is one of these 5 Pancha Bhoota Stalam's and is associated with the element of earth ie ma Prithvi
---
Check our video on youtube.
---
Which are the Panch Bhota Stalam temples
In total we have 5 Pacha Bhoota Sthalams temples ( each one a shiva temple). Each dedicated to one of the Panch Bhootas or the 5 elements. kambareswarar Temple Kanchipuram is one of them, dedicated to earth and hence also called as "Prithvi Lingam". The complete list is as below.
| | | | |
| --- | --- | --- | --- |
| Element | Temple Name | City | Called as |
| Earth | Ekambareswarar Temple | Kanchipuram | Prithvi Lingam |
| Water | Jambukeshwarar Temple | Thiruvanaikaval | Appu Lingam |
| Fire | Thiruvannamalai | Arunachaleswara Temple | Agni Lingam |
| Air | Kalahasti temple | Shri Kalahasti (near Tirupati ) | Vayu Lingam |
| Space | Thillai Natarajar Temple | Chidambaram | Akasha Lingam |
Pancha Bhoota Sthalam Temples
Presiding Deity of Shri Ekambareswarar Temple
The presiding deity of Shri Ekambareswarar temple is Lord Shiva.
Lord Shiva is worshiped as Ekambareswarar or Ekambaranathar, and the Shiva Lingam is known as Prithvi lingam here. His consort Parvati is depicted as Gowridevi Amman. Ekambareswarar temple is one of the five temple of pancha bhoota sthalam temples and hence a very important center of Shiva Worship.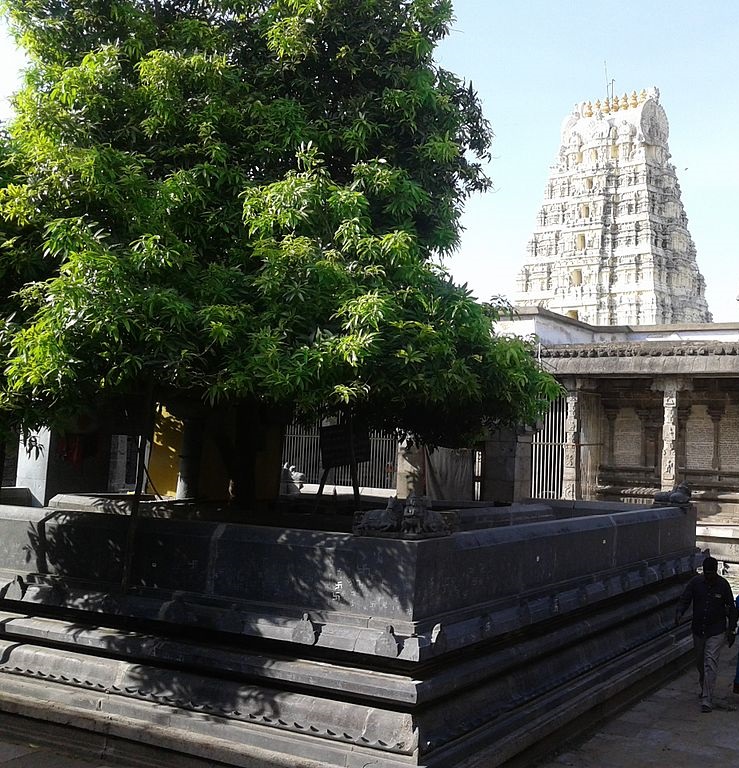 What is Shri Ekambareswarar Temple famous for?
Shri Shri Ekambareswarar Temple Kanchipuram is one of the largest temple complexes in India. The temple complex is in more tan 25 acres and there are 4 gopurams ( entraces) on each side with the southern entrance being 55 meters tall ( 11 floors).
The temple has many big halls and the most famous of it is the "thousand pillars" hall which was built during the Vijayanagar empire.
Legend Behind Shri Ekambareswarar Temple Kanchipuram
As per local legend it is said that Ma Parvati was once cursed to become dark like Kali and to get rid of this curse she started doing penance under temples mango tree. Shiva tried to test her by distracting her. But he was not successful. Ma Parvati had made a Shiva Lingam from the sand of the nearby Vegavathi river. Finally she was able to win over Lord Shiva who was touched by her devotion.
History of Shri Ekambareswarar Temple Kanchipuram
It is said that this famous temple of Kanchipuram has been there from 600 AD. So it is one of the oldest temples in India.
This temple was further developed during the empire of Vijayanagar during 15th century. The temple is built upon the area of around 25 acres and its southern gopuram also called as Raja gopuram is one of the tallest in India.
Ekambareswarar Temple Kanchipuram Pooja Timings
| | |
| --- | --- |
| Pooja Details | Pooja Timings |
| Koo Pooja | 06:00 AM |
| Ukshakala Pooja | 06:30 to 07:30 AM |
| Kala Santhi Pooja | 07:30 to 08: 30 AM |
| Uchikala Pooja | 11:30 AM to 12:00 Noon |
| Pradhosa Kaalam | 05:00 PM to 05:30 PM |
| Sayaratchai Pooja | 06:00 PM to 07:00 PM |
| Arthajama Pooja | 08:00 PM |
What you should mus see at the temple
Prithivi lingam : Main Shiva Linga, denoting the element earth
Sahasra Lingam – 1008 lingams carved in a single lingam
3500 year old Mango tree,(Sthala Vriksham). Ma Parvathi prayed for Lord Shiva under the tree.
Thousand pillared hall (Also called as Airam kal Mandapam).
Nilaathingal Thundathan(Mahavishnu )
How to reach Ekambareswarar Temple Kanchipuram
Kanchipuram is very well connected. It is 69 Kms from Chennai and 280 Kms from Bangalore.
If you are travelling by Chennai, by road is best option. Generally it takes around 2 hrs to reach.
If you are travelling from Bangalore, by road it will take around 6 hours. Roads are very good so many people tend to go by their own car. It is also better because then you can visit lots of other temple easily there.
There are ample parking space.
The route is pretty straight.
Bangalore = > Krishangii => Vellore => Kanchipuram
There are many trains from Bangalore to Kanchipuram.
Otherwise the best way is to come to Chennai by train and take a bus or cab from there.
The temple itself is around 2 kms from Kanchipuram bus stand.
So guys if you are in Kanchipuram, this temple is a must visit. A very important center of worship for all Shiv Bhakts, this temple must be on your list.
Mus visit once in in lifetime.
If you have already visited this temple. Do share your comments / feedback!
Om Namah Shivay!
You may also like : Famous temples of Shoogiri