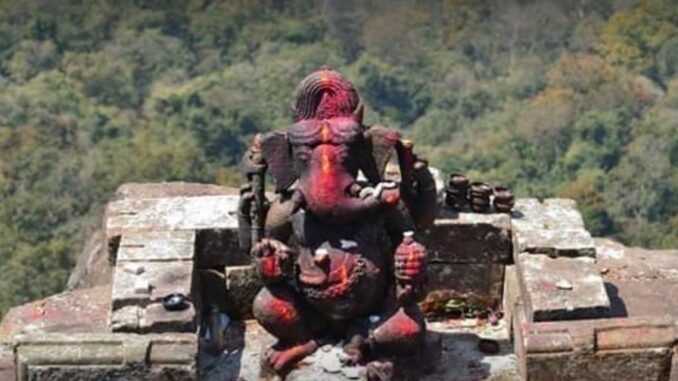 Friends, Do you know why Lord Ganesha is called as ekdant? If I tell you about the place which is associated with this story I am sure you will get interested in visiting this place. So friends let me take you to Dantewada today where there exists an place which is the witness of this story. I am talking about Dholkal Ganesha, Dantewada, Chattisgarh.
At this place there exists an ekdant idol of Lord Ganesha which is supposed to be thousands and thousands of year old.
The place where this idol exists is approximately 3000 ft above sea level and is surrounded by dense forest.
---
Legend Behind Dholkal Ganesha idol
As per local legend, the fight between Lord Ganesha and Rishi Parshuram happened at this place on top of this hill. It is that during this fight, one of the tooth of Lord Ganesha got broken and hence the name "ekdant"
Since Lord's tooth got broken by a weapon used by Shri Parshuram, named as "Pharsa – फरसा in hindi , the village at the foothill was called as "Pharsaphal फरसपाल:.
क्षेत्र में यह कथा प्रचलित है कि भगवान #गणेश और परशुराम का युद्ध इसी शिखर पर हुआ था. इस युद्ध के दौरान भगवान गणेश का एक दांत टूट गया। इस घटना की याद में ही नागवंशी राजाओं ने शिखर पर गणेश ji की प्रतिमा स्थापति की। क्योंकि परशुराम के फरसे से गणेश जी का दांत टूटा था, इसलिए पहाड़ी की शिखर के नीचे के गांव का नाम फरसपाल रखा।
This amazing idol, it is said that was established by Nag Dynasty kings. But the mystery around this idol still remains.
---
When was Dholkal Ganesha idol found
This is a quite big idol and it is said that it weighs around 100Kgs. It is said that around 2017, this 1000 year old mighty idol was vandalized. It was pushed down the hill. It was later restored by archeologists.
According to Archeologist, this rare Ganesh idol installed on the Dholakal peak is said to be of the 11th century.
From architectural point of view this statue is a symbol of Artistry. In this statue of Lord Ganesha, Farsa in upper right hand, a broken tooth in upper left hand, bottom right hand is holding Akshamala in Abhaya Mudra in right hand while in bottom left hand of idol is holding Modak.
How to reach Dholkal Ganesha
To travel to Dholkal Ganesh, you first need to go to Dantewada.
By Air
Raipur and Vishakapattanam are the nearest major Airports, both these spots are equidistant to the district HQ Dantewada by road at around 400 KMs.
Jagdalpur is the nearest mini airport which have flight connectivity with both Raipur and Vishakapattanam
By Train
Vishakapattanam is well connected with train to Dantewada the district HQs. Two daily trains are available between Vishakapattanam and Dantewada
By Road
Regular bus services are available between Raipur and Dantewada on a very good conditioned road (400 Kms) Dantewada is also well connected with Hyderabad and Vishakapattanam through regular Bus services
You need to trek around 5Kms at the end to reach to the top of the temple. This trek goes through dense forest and is very difficult. Hence it is very important that you wear proper shoes for the trek.
There is a tourist office at Dholkal base after Pharasaphal village. Better to take a tourist guide from this office as the jungle is dense and it is easy to get lost.
---
Once you reach at the top, the view from it is breathtaking and an amazing experience. Then the beautiful idol of Lord Gamesha, make the trek a worth taking. It's one of the best trek in Chhattisgarh. Takes around 2 hours to cover this trek.
---
Where to stay at Dholkal Ganesha
Accommodation is available at Frsaphal village. You can check with the tourist office there. There is a government guest house which is quite good. The food here is amazing.
Ganesha festival is celebrated here with lot of enthusiasm and if you are able to visit during this time, it is best.
---
Friends, hope you liked this information. If you already visited Shri Dholkal Ganesh, do share your feedback!
You can also visit the official dantewada website – click here
You may also like – Sri Girjabandh Hanuman temple
273 total views, 2 views today