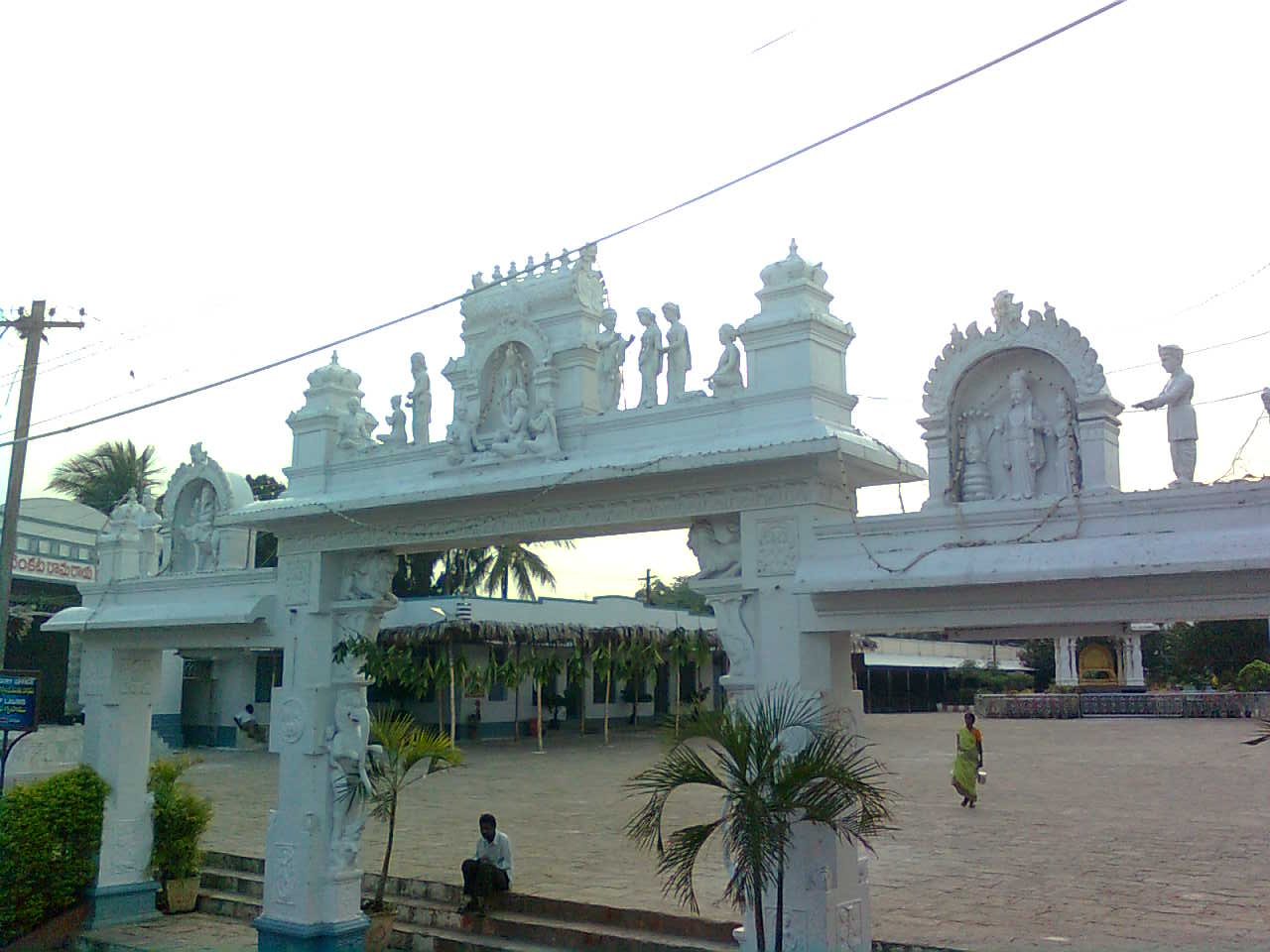 Annavaram Temple – Sri Satyanarayana Swamy Temple at Annavaram, Andhra Pradesh
Annavaram Temple ( Sri Satyanarayana Swamy Temple ) – Annavaram is one of India's most well-known Holy Shrines. It is said that the Annavaram temple is second only to Tirupati in Andhra Pradesh.
Sri Annavaram Satyanarayana temple architecture
Sri Annavaram satyanarayana swamy temple is constructed in the Dravidian architectural style. The glory and wealth of Lord SATYADEVA is said to be extensively detailed in Skandapuranam's Revakhanda.
Sri Satyanarayana Swamy Temple is located on Ratnagiri hill, 2 kilometres from Annavaram Railway Station.
The Ratnagiri hill is roughly 300 feet above sea level, surrounded by lush foliage and surrounded by the Pampa River.
From the bottom of the slope, 460 stone stairs lead to the temple.
When Satyanarayana Vratam is conducted here, it is claimed that all of the devotees' requests would be granted.
Annavaram Temple history
The glory and wealth of Lord SATYADEVA were extensively detailed in Skandapuranam's Revakhanda.
On one side, the ruling god Lord Satyadeva with his consort Sri Anantha Lakshmi, while on the other side, is Lord Siva.
Ratnagiri is called after Ratnakara, son of Meru, the ruler of sacred mountains.
Sri Satyanarayana Swamy at Annavaram, like all Divyakshetrams, is surrounded and accompanied by holy rivers.
The Holy Pampa River touches the foot of the hill.
In his glorious revealed form of the DIVINE TRINITY, namely Hari Hara Hiranya Garbha Thrimurtyatmaka, Lord Satyadeva, the god of truth, is showering his eternal benefits on mankind.
As a result, this is the temple that attracts both Vishanava and Saiva followers, and hundreds of pilgrims from all over the country visit every day to adore Lord Satyadeva, disregarding all sectarian divides.
Raja Ramanarayana, the zamindar of Gorsa and Kirlampudi estates at the time, built this temple in the Dravidian style in 1891.
It is stated that the Lord appeared to him in his dream and gave him the instruction to build the temple.
He found the idol on the hill, worshipped it, and placed it where it is now. Following then, the temple was renovated in 1933-34 and again in 2011-2012.
The hillock by the side of the village is considered to be very sacred. Meruvu, the lord of the hills and his consort Menaka did great penance and begot two sons by the grace of Lord Vishnu.

One was named Bhadra and the other Ratnakar.

Bhadra pleased Lord Vishnu with his devotion and penance and with his grace became Bhadrachalam on which Lord Sri Rama had permanently settled.

Ratnakara desired to emulate his brother and succeeded in pleasing Lord Vishnu by his penance to settle on him as Veera Venkata Satyanarayanaswamy, Ratnakara remaining as Ratnagiri (hill)
It is stated that one of the village's Brahmins, Earanki prakasam, had a dream in which the Lord appeared to him and told him that his vigraha had been left unattended on the hill, and that they would track it down and re-consecrate it.
THe Brahmin notified Sri Raja I.V.Ramarayanam, the then Zamindar of Gorasa of the kirlampudi estate, of the aforementioned fact, and the two of them, along with other villagers, tracked down the idol on the hill, worshipped it, and constructed a temple around it ( On Sravana Suddha Vidiya of the Telugu year Khara (i.e. 1891 A.D.) at the current location ).
Sri Annavaram Temple Timings
Below are the Darshan and Seva timings at sri satyanarayana swamy temple.
Annavaram Temple Darshan Timings
Morning Hours: 6:00 am to 12:30 pm
Afternoon Hours: 1:00 pm to 5:00 pm
Evening Hours: 5:00 pm to 9:00 pm
| | | |
| --- | --- | --- |
| S.No | Seva type | Time |
| 1 | Suprabhatha Seva | 04:00:00 |
| 2 | Dhoopa Seva | 05:00:00 |
| 3 | Sarva Darshan Starting time | 06:00:00 |
| 4 | Bala Bhogam | 07:00:00 |
| 5 | Bali Harana | 07:30:00 |
| 6 | Chaturveda Parayanam | 8:00 am – 11:00 am |
| 7 | Swamy Nitya Kalyanam | 9:30 am – 11:30 am |
| 8 | Sahasranama Pooja | 8:00 am – 11:00 am |
| 9 | Abhishekam to the Lord Siva at Yantralayam | 6:30 pm – 7:30 pm |
| 10 | Maha Nivedana | 12:00:00 |
| 11 | Dhoopa Seva | 18:00:00 |
| 12 | Darbaru Seva | 7:30 pm – 8:30 pm |
| 13 | Ekantha Seva | 8:30 pm – 9:00 pm |
| 14 | Temple Closing Time | 21:15:00 |
Annavaram Darshan Ticket Charges
Seegra Darshan: Rs.50 per person. Prasadam: 100 gm Bhoga Prasadam.
Antaralayam Darshan: Rs.100 per person. Less waiting time.
Sarva Darshan: Free entry for all devotees.
Annavaram Temple Sevas online booking
So there is a Annavaram devasthanam online booking portal of the temple which has lots of information about the temple
click here for checking the online services – click here . Use the same link for annavaram rooms booking online.
Annavaram rooms booking
For annavaram temple rooms booking, there are facilities for visitors for rooms to stay at Annavaram. Visitors can stay at a variety of hotels and guest homes on the hill, ranging from simple rooms to air-conditioned suites.
Annavaram Devasthanam rooms
Devastanam provides lockers for the convenience of casual guests to store their belongings. Except for Prakash Sadan, all accommodations accept advance reservations.
The guest house of their choice will be reserved by paying one day's rent plus 50% of the additional cost.
| | | | |
| --- | --- | --- | --- |
| l. No. | Guest House/Cottage Name | No of Rooms Available | Rent Per Day/Per Room (in Rs.) |
| 1 | Sri Seetha Rama Choultry | 94 | 200 |
| 2 | Old Centenary Cottages | 64 | 400 |
| 3 | New Centenary Cottages | 32 | 500 |
| 4 | Sri Vana Durga Choultry | 12 | 200 |
| 5 | Satya Niketan(Down Hill) | 62 | 200 |
| 6 | Sri Satyadeva Guest House | 60 | 400 |
| 7 | Prakash Sadan Ordinary Room | 41 | 650 |
| 8 | Prakash Sadan A.C. Room | 44 | 1050 |
| 9 | Prakash Sadan Double Room | 1 | 1600 |
| 10 | Hari Hara Sadan | 51 | 600 |
| 11 | Hari Hara Sadan Single Rooms | 5 | 400 |
| 12 | Hari Hara Sadan AC Rooms | 84 | 950 |
Annavaram accommodation booking online
Please use below links for more information
https://tms.ap.gov.in/ssdanv/cnt/accommodation
https://annavaramdevasthanam.nic.in/SideMenu/Accommodation
For annavaram accommodation booking online meeseva & meeseva annavaram room booking, you may check out the link here.
How to Reach Annavaram
By Road
There are frequent Express buses from Visakhapatnam ,Rajahmundry and Kakinada.
Devasthanam is running buses from Down hill to Up Hill.
APSRTC Buses : A.P.S.R.T.C runs Buses for every Half An Hour Via Annavaram from Rajahmundry to Visakhapatnam and vice versa.
For Every 15 mintus buses are available from Tuni to Kakinada via Annavaram and surrounding Villages and vice versa.
By Train
Most of the trains passing between Visakhapatnam – Vijayawada will stop at Annavaram Station

By Air
The nearest Airport on east side of Annavaram is situated at Visakhapatnam. Annavaram is at 2hrs distance from Visakhapatnam.
The nearest Airport on the West side of Annvaram is situated at Rajahmundry. Annavaram is at 1hr distance from Rajahmundry.
Simhachalam to Annavaram distance
The distance from Simhachalam to Annavaram is approx 130 Kms. It will take around 2hr 30 mins to 3 hours if you are travelling by your own vehicle.
There are direct trains from Simhachalam to Annavaram.
Below are some trains from Simhachalam to Annavaram distance.
17240 VISAKHAPATNAM – GUNTUR Simhadri Express
17488 VISAKHAPATNAM – CUDDAPAH Tirumala Express
12861 VISAKHAPATNAM – KACHEGUDA SF Express
12805 VISAKHAPATNAM – LINGAMPALLI Janmabhoomi SF Exp
17479 PURI – TIRUPATI MAIN Express
18045 SHALIMAR – HYDERABAD DECCAN East Coast Express
18645 HOWRAH – HYDERABAD DECCAN East Coast Exp
3351 DHANBAD – ALAPPUZHA Express
18463 BHUBANESWAR – BANGALORE CITY Prashanti Exp
12839 HOWRAH – MGR CHENNAI CENTRAL SF Express
17015 BHUBANESWAR – SECUNDERABAD Visakha Express
12727 VISAKHAPATNAM – HYDERABAD DECCAN Godavari SF Exp
17244 RAYAGADA – GUNTUR Express
Annavaram temple phone number
Looking for Annavaram temple phone number. Please find the contact details as below
Mobile no: 9491249990
Ph: 08868-238121, 238125, 238163
Email: eoannavaram@yahoo.co.in
https://tms.ap.gov.in/ssdanv/cnt/contact-us
Related
Annavaram Temple ( Sri Satyanarayana Swamy Temple ) – Annavaram is one of India's most well-known Holy Shrines. It is said that the Annavaram temple is second only to Tirupati in Andhra Pradesh. Contents hide 1 Sri Annavaram Satyanarayana temple architecture 2 Annavaram Temple history 3 Sri Annavaram Temple Timings 4 Annavaram Darshan Ticket Charges…