One of the Char Dham, the Badrinath temple also called as the Badrinath dham, dedicated to Lord Vishnu is one of the most important pilgrimage sites for Hindus. It is situated high in the Garhwal Hills along the River Alaknanda.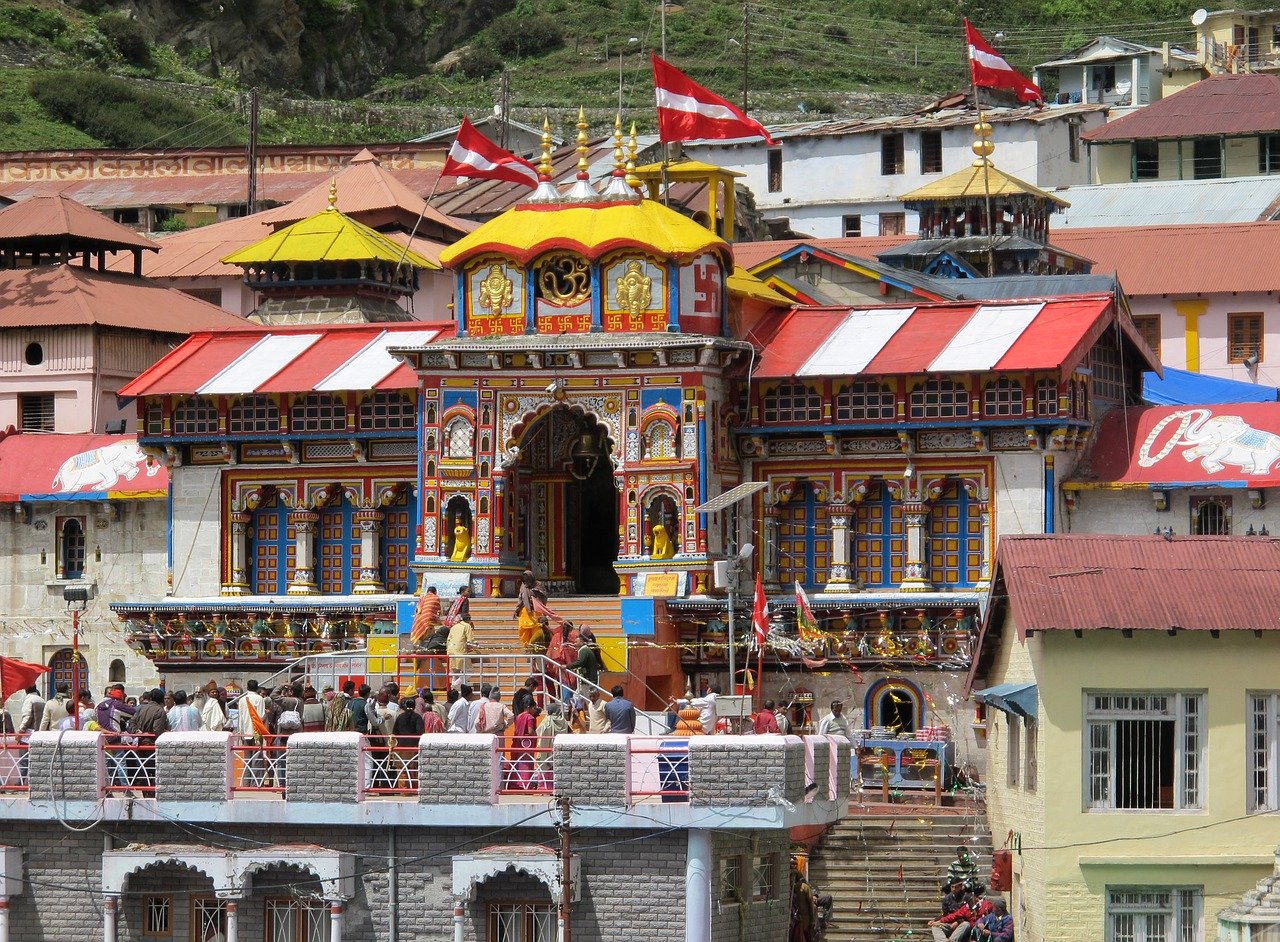 Badrinath temple is also mentioned in the 108 Divya Desams which mentions pilgrims dedicated to Lord Vishnu.
In the lap of snow-clad Himalayas at the height of 10,279 feet it is open only for six months.
Due to the adverse climate conditions, the temple is accessible only in summers. It is close to the Nar and Narayan Hills.
The Neelkanth mountain is in the backdrop of this magnificent piece of architecture.
About Badrinath Dham– Badrinath temple history
The temple Badrinath is believed to have been set up by the saint Adi Shankracharya himself. In this temple, there is an idol of Lord Vishnu made of black stone.
The height of this idol is around 1 meter. This idol is included in the 8 Swyama Vyakta Kshetras or better understood as the self-manifested statues of Lord Vishnu.
The pilgrim is mentioned in the 108 Divya Desams of Lord Vishnu. These hold a very special place for the devotees of Lord Vishnu.
Though the temple is open only for six months for worship but there is an Akhand Jyoti which is lit throughout the year. It has sufficient oil to last six months at a stretch even if no one adds more oil to it.
Best time to visit the Badrinath Temple
The temple is open for the devotees only for six months at a stretch. Due to extreme situations and cold weather which is not easy for humans to bear.
It is open from the month of April to October.
Badrinath temple timings
The timings for the temple for offering prayers are 4.30 AM to 1 PM and then 4.30 PM to 9 PM.
Every devotee needs to spend at least 2-3 hours or more. The temple is opened on the eve of Akshaya Tritiya each day in April.
The last day of offering prayers is the day of Bhatridwityia. After this day the temple is closed for six months.
The idol is taken to the Narsimha temple and only the Akhand Jyoti remains burning in the temple.
How to reach Badrinath Temple
There are no direct trains to Badrinath temple.
You will need to reach Haridwar or Rishikesh.
You can go from there by the means of Buses or Taxi. The temple is at a distance of 300km from Rishikesh and it takes 12 hours to reach there by road.
You can also go by air to the nearest airport of Jolly Grant Airport in the city of Dehradun. form here the distance is 314 km which can be covered by road. There are daily flights from Delhi and it is well connected to the whole world from here.
The nearest railway station is Rishikesh. It will is well connected from various places in India by rail. From there you will need to take the journey by road.
As per a new effort made by the Uttarakhand government, helicopter service from Dehradun has been started for those who can not reach the difficult terrain otherwise.
Legend behind Badrinath temple
According to the famous Hindu Legend Lord Vishnu once sat down for meditation at this place.
As the weather got severe and there was very cold weather, Goddess Lakshmi consort of Lord Vishnu saved him in the form of Badri Tree.
Lord Vishnu was very pleased with the devotion of Goddess Lakshmi and named the place Badrika Ashram from where it fondly became Badrinath over time.
Places around Badrinath temple
There are few more places which are a must visit around Sri Badrinath Temple
Tapt Kund ( Agni Teertha )
This is a hot sulphur spring that is believed to have medicinal values. It is in the temple. It is also believed that the river Alaknanda originates here.
Well known and very colourful festivals such as Mata Murti ka Mela and Badri Kedar festivals are celebrated with a lot of joy.
The water is at 45 degrees Celsius. It is believed to be the home of Lord Agni or the fire god. It is close to the riverbank of river Alaknanda so devotees enjoy a dip in the Kund as well as the river.
A dip in the Kund water is believed to relieve you of several skin diseases. Devotees take a dip in this kund and purify themselves before they enter the temple as a ritual.
It is believed to clean your souls of all the sins and make you pure. This also is known as Agni Teertha in Hindu mythology.
A belief says it was originated from the Kapal or head of Lord Shiva. the thermal energy that is present there is much greater than in other water bodies.
Charanpaduka ( on Narayan Parvat )
There are footprints that are believed to belong to Lord Vishnu himself. It is found at the top of a rock at the height of 3380ft and at a distance of 3 km from the main temple.
An arduous trek is required to reach the spot. The rock is equally important and visited by devotees each year.
This is believed to be the first step of Lord Vishnu on earth. This rock is situated on the Narayan Parvat. It takes around 1-2 hours to complete the trek.
Vasundhara Falls
These falls originate from between the Nar Narayan peak. It is in the village of Mana that is 9 km from the main temple.
Here the falls meet the river Alaknanda at a height of 12,000 ft. this is also believed to be the resting place of the Pandavas.
The visit to these falls is believed to clear your mind of impure thoughts. It can also be reached by trekking 6 km from Mana river.
It takes around 2 hours. The trek has a difficult stretch after crossing the Saraswati temple.
Bhim Pul
This is a bridge made of stones naturally on the river Saraswati. It is believed to have been found by one of the Pandava brothers named Bheem.
While some call it so as they think that Bhim threw the stones in such an arrangement to turn it into a bridge to cross the hills. It is a mesmerizing view.
Badrinath temple FAQ
Where is Badrinath temple located in India?
Badrinath temple is located in Badrinath which is a holy city in the state of Uttrakhand, India. It is situated at the height of around 3000 meters or 10K feet. It is one of the Char Dham places in India. Badrinath Temple is one of the most important pilgrimage destinations for Hindus all over the world.
Badrinath is situated on the bank of which river?
Badrinath is situated on the bank of river Alaknanda.
Alaknanda is a river in Himalayas and is one of the two headstreams of river Ganga.
Badrinath temple is in which state?
Badrinath temple is situated in the Indian state of Uttrakhand
Who built Badrinath temple?
Is it said that the Badrinath temple was built by Sri Adi Shankracharya.
Badrinath temple is of which god?
Badrinath temple is dedicated to Lord Vishnu.
How to reach Badrinath temple from Delhi?
If you want to drive down to Badrinath from Delhi, the time taken will be close to 17 to 18 hours. It is at a distance of approximately 550 kms from Delhi. You can travel by air till Dehradun and take a cab from there. Dehradun is well connected to major cities of India. You can also take train to Dehradun or Rishikesh and then take a cab from there.
How to go Badrinath from Mumbai or Bangalore?
Travel by air to Jolly Grant airport , Dehradun and take a cab from there. Or take a train to Dehradun or Rishikesh and take a cab from there. This is the best way to reach Rishikesh. You can also come to Delhi and then drive down from there or take a cab from there. But from Delhi it will take around 18 hours to reach Badrinath while from Dehradun 12 hours ( around 330 Kms) or from Rishikesh it will be 10 hrs ( 290 Kms)
How to reach Badrinath from Joshimath?
Badrinath is around 45 Kms from Joshimath and will take around 2 hrs to reach. Regular taxis are available. State road transport buses are also available, but check the timings.
How to go Badrinath from Haridwar?
From Haridwar it is 320 Kms , so it will take around 11 hours. You can take taxi which are available easily. You can go to Rishikesh by train and then take taxi from there.
---
You may also like : Sri Somnath Temple