Pennsylvania is home to a significant Indian community, which has grown over the years. Major cities in Pennsylvania, such as Philadelphia, Pittsburgh, and Harrisburg, have sizable Indian populations. So let is look at some popular Hindu temple in Pennsylvania.
Vraj Hindu Temple – Hindu temple in Schuylkill County Pennsylvania
The Vraj Hindu Temple is two miles west of the crossroads of Routes 183 and 895 in Schuylkill County, in eastern Pennsylvania, United States. It is a multimillion-dollar temple or haveli that spans 100 acres.
Vraj is also known as Nootan Nandalay and is the home of God Shrinathji (a Krishna manifestation). Every year, an estimated 100,000 Hindu pilgrims attend.
For young people, Vraj offers daily prayers (Darshans), annual events, and service opportunities.
Prior to 1987, Vraj Hindu Temple was a Yoga recreational centre.
Govind Bhikhabhai Shah (Kaka), the visionary and founder, purchased the land in the summer of 1987 with the help of 29 others.
The temple was dedicated in November 1988, at the inaugural Patotsav Celebration, when Shrinathji visited Vraj for the first time.
Darshan is a sanctum that is organised as distinct prayers six times a day (daily).
Each Darshan has its own unique mood, feeling, clothing, music, and food:
Mangala – to emphasise the auspiciousness of the day's start.
Shringar – Shrinathji is dressed and wears a flower garland around his neck.
Raajbhoog – the main meal of the day, along with several sorts of sweet.
Utthapan – for when Shrinathji is said to awaken from his afternoon nap.
Sandhya Arati is an evening prayer accompanied by a light garland.
Shayan is a musical and drumming celebration that precedes the day's final prayer.
Vraj has a youth organisation made up of young volunteers and students from all around the United States.
It was established to inspire community service and to increase awareness of Indian heritage.
Vraj youth members range in age from 16 to 28 and are usually in high school, college, graduate school, or working.
Vraj youngsters participate in all temple-sponsored events, such as prayers, food, holiday festivities, and other community duties.
Vraj Youth programme is an annual summer programme held by Vraj Youth.
Sri Venkateswara Temple – Hindu temple in Pittsburgh Pennsylvania
The Sri Venkateswara Temple in Pittsburgh, Pennsylvania is a Hindu temple.
It is the oldest Hindu temple in the United States, established by Indian immigrants in the style of the Sri Venkateswara Temple in Tirupati, India.
It is a popular Hindu pilgrimage site for hindus in the Northeastern and Midwestern United States.
On January 14, 1972, during a Pongal holiday, a group of Pittsburgh-area Hindus set up a shrine in a basement with pictures of Hindu deities.
Balakrishna Naidu of Coimbatore, India, gave a granite Ganesha statue to the group in the summer of 1972.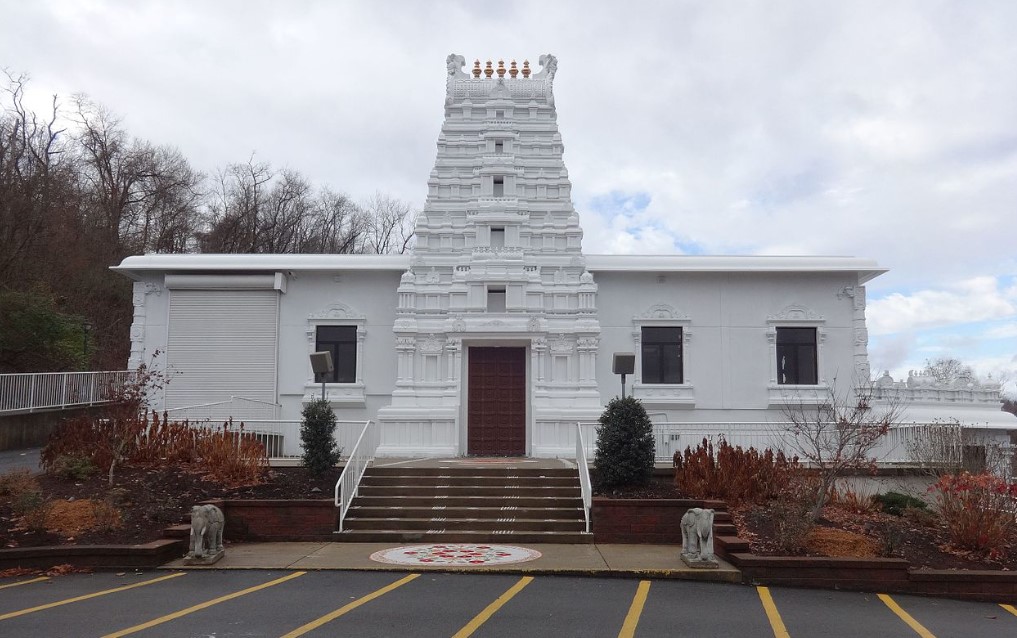 Because Ganesha is worshipped before embarking on an auspicious endeavour, the group interpreted the gift as "a good omen to invoke blessings to a larger project."
On April 17, 1975, the temple's foundation was laid.
Temple should reflects South Indian customs and architecture.
The temple was completed and consecrated on June 8, 1977, becoming the first Hindu temple in the United States built by Indian immigrants.In 2005, the temple was remodeled to resemble the Sri Venkateswara Temple.
BAPS Shri Swaminarayan Mandir – Coraopolis Pittsburgh Pennsylvania
Situated in Glen Mills, the BAPS Shri Swaminarayan Mandir is a beautifully crafted Hindu temple.
It is part of the BAPS Swaminarayan Sanstha organization and follows the Swaminarayan Sampradaya.
The temple serves as a place of worship, community gathering, and cultural education.
Address: 90 Grant St, Coraopolis, PA 15108, United States
The Mandir is open to the public daily throughout the year, including all bank and federal holidays.
Mandir Visiting Timings :
Timings
Arti
7 pm
Darshan
Saturday
4 pm – 8 pm
 
Weekly Assemblies
| | |
| --- | --- |
| | Saturday |
| Bal Sabha | 5 pm – 6 pm |
| Balika Sabha | 5 pm – 6 pm |
| Satsang Sabha | 4:30 pm – 6:30 pm |
Hindu-Jain Temple of Pittsburgh, Pennsylvania
A unique temple, established in response to social & religious needs of a growing population of followers of Hinduism & other Indic religions.
The Hindu Jain Temple is a non-profit organisation that serves the tri-state Hindu-Jain community in and around Pittsburgh, Pennsylvania.
The Temple fosters its members' spiritual, cultural, educational, social, and humanitarian needs and commitments.
The following is a summary of temple activities and community services:
The Spiritual Temple is a Hindu-Jain temple. Priests offer religious services both within and outside the temple.
Major religious festivals are observed. Havan is performed on the first Sunday of each month.
Katha and religious seminars are organised.
Cultural owns and operates a fully equipped community hall.
Participates in the tri-state folk festival in order to promote Indian culture and art.
Youth events are organised by her. Senior citizen activities are organised.
Organises one of the largest Sunday schools for children (Vidya Mandir).
The school teaches Indian languages, history, culture, dances, and music.
Scholarships are given to deserving students. Plans the graduation Puja.
Youth conference and camp are organised by this organisation.
Temple Times, a monthly news letter, and an annual calendar are published.
Sampark, a community directory, is published.
Prepare a Diwali feast for homeless shelters.
Participates in disaster relief fundraising on a national and worldwide scale.
615 Illini Dr, Monroeville, PA 15146, USA
Email : office@hindujaintemple.org
Tel: +1 724 325 2054 , Fax: +1 724 733 7475 , Priest: +1 724 325 2073
---
The Indian community actively engages in cultural, social, and religious activities. They organize events and celebrations to mark festivals like Diwali, Holi, and Navratri.
Community organizations and cultural associations play a vital role in promoting Indian arts, music, dance, and cuisine.
These organizations often host cultural performances, workshops, and educational programs to preserve and showcase Indian traditions and heritage.
The Indian community in Pennsylvania also maintains strong ties with their homeland.
They participate in charity initiatives, support cultural exchanges, and celebrate Indian Independence Day and Republic Day.
Religious institutions and community centers provide spaces for spiritual practices, cultural gatherings, and language classes.
You may also like: Famous Hindu Temples in United States of America