Do you know Sir Mahabelshwara temple in Gokarna is the only temple where you can go inside, offer milk and water on the shiva lingam and offer your prayers by actually touching the shiva linga which is beneath the earth surface.
This is the shiva lingam which is an "Atma Lingam" which Ravan got as a boon from Shiva himself and hence it is said that this shiva lingam connects directly to "Kialash".
But then Gokarna, all small town on the western coast of the country in the state of Karnatka, has much more to offer. With its famous "Om Beach" and "Kudle Beach" and a religiously very important temple, it's popular among foriegn tourists as well as domestic tourist.
And not many of us know. "Gokarna" is the birth place of one of our most loved god … Lord Anjaneya (Lord Hanuman).
Inside Mahbaleshwara temple, all the male members need to go bare chest and hence you have to remove your shirt before entering the temple. There are some special poojas which you perform. Take the ticket before hand at the counters in the front of the main gate.
Remember, photography is not allowed with in the temple premises.
Story behind Atma Linga:
It is said that, Ravana once did a severe penance at Mount Kailash to please Lord Shiva. Shiva pleased with his worship agreed to bestow boons on him and asked Ravana what he wants. In return Ravana asked for Atma-Lingam. It is said that worshiping Atma-Lingam brings immortality. Shiva was so happy with Ravana that he granted him Atma-Lingam , but with a condition that he will not keep Atma-Linga on the ground till it reaches its final destination.
Ravan was happy and agreed to this condition. Taking the Atma-Linga along with him, he started back when on the way he found that it is getting dark and he needs to be perform his evening prayers. He saw a small boy playing and requested him to hold the Atma-Linga while is finishes his evening prayers.
The boy agreed but with a condition that if he finds it to be heavy and cannot hold further, he will call for him three times and if Ravana dosen't come by that time, he will keep the Linga on the ground.
Ravana agreed to this condition and handed over the linga to the little boy. While he was busy with the prayers, the little boy started calling out Ravana, but Ravana did not want to leave the prayers in between. The boy called for his name three time and then kept the linga on the ground.
Ravan was very angry. He tried to lift the linga, but it did not come out. Ravana was so angry that he tried hitting the little boy and then the little boy came to his actual form and it was Lord Ganesha. Since Ravana has got Atma-Linga, this caused lot of worry to Devas and they have requested Lord Ganesha to help.
Hence it is said that you should visit Sri Ganesha temple which is situated, just before Sri Mahabaleshwara temple.
Ravana understood that he has been tricked. He got angry and started throwing lingam accessories around. Hence the places where these pieces fell became famous temples. These came to be known as Atma Linga temples and these are – Sadashiva temple Surathkal, Dharseshwara temple at Dhareshwar, Sri Murudeshwara temple at Murudeshwar , Sajjeshwara temple and Guneshwara temples.
What else to see in Gokarna:
Apart from Mahabaleshwara temple and Ganpathi temple, there are 2 famous beaches in Gokarna which is a must visit. These are "Om Beach" and "Kudle Beach". Both beaches are popular with foreign tourists and you will find lot of foreigners here, specifically during September to March time frame. Apart from Gokarna, you can also drive down to Murudeshwara and Dhareshwara temples which are other 2 Atma Lingas.
How to reach:
Two ways to reach Gokarna
1) Shimoga ( Bangalore – Tumkuru – Shimogha – Murudeshwar – Gokarna) NH4 till Tumkuru and NH 206 towards Shimogha and then to Murudeshwar
2) or via Chittradurga ( Bangalore – Tumkuru – Chitradurga – Murudeshwar – Gokarna) NH4 till Chittradurga and NH13 after that.
The road conditions are good throughout. However NH206 and NH13 are 2 lane at this moment and hence you get a bit less speed.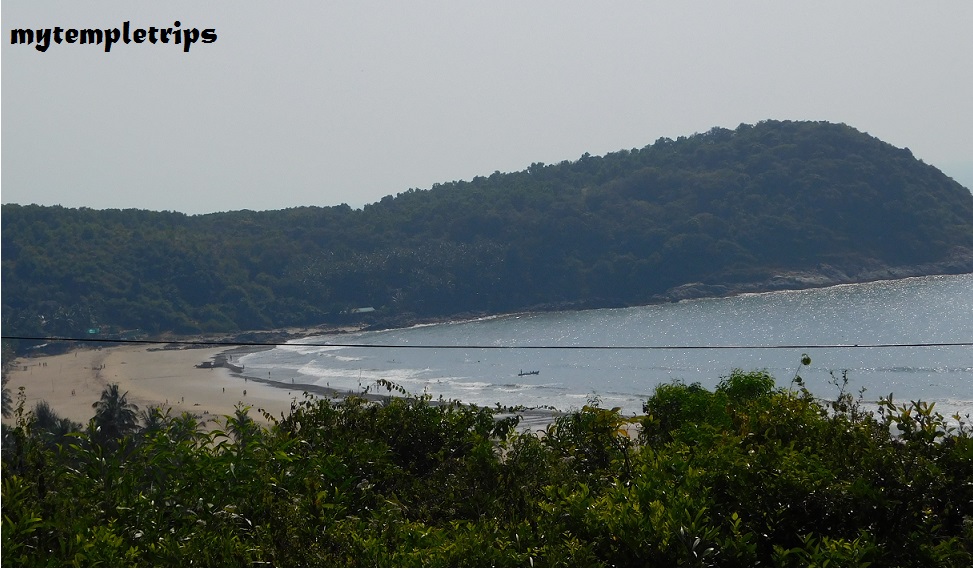 4,392 total views, 2 views today